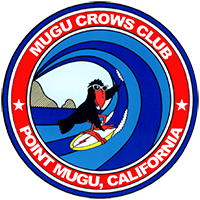 The Commander William J. Coffey Memorial Scholarship was established to provide a scholarship fund and award program to encourage and support the study of science, engineering, and technology at colleges and universities in the local area. The Mugu Crow's Club currently supports three $1500 scholarship awards. The scholarship awards are provided to Ventura County graduating high school seniors planning to pursue a technical degree and to a State College, University, or a Ventura, Oxnard, and Moorpark Junior College recipient already enrolled in an engineering or technical major.
The scholarship is a memorial tribute to Commander William (Bill) J. Coffey, a former club member who died while on active duty in the military service of our country. Commander William (Bill) J. Coffey served as the Director of Electronic Warfare Operation while at Point Mugu in the late 70s. Bill worked and lived his life by example, praised for his volunteer services to local the community. He participated in religious activities at the Point Mugu Chapel, Chairman of the Parent Advisory Council in the local school system and served as Vice-President and member of the Board of Directors of the Mugu Crow Club. This award is intended for students who show and demonstrate a dedication to work, enthusiasm for life and a strong desire to cultivate and expand their interests in the science, engineering, and/or technology areas of study.
1. Purpose:
This scholarship program provides financial assistance for selected students to pursue a degree in engineering or related scientific and technical subjects at area colleges or universities. Additionally, the scholarship is awarded as memorial tribute to Commander William (Bill) J. Coffey (deceased) a former member of the club who lost his life in the crash of a military aircraft in the Indian Ocean while in the service of his country.
2. Policy:
A. This scholarship is based on academic merit, character, leadership and interests in science and technical fields. The recipient must be a college, university, or graduating high school Senior of specific area schools.
B. Representatives of the engineering, physical science and military science departments of the participating school shall make nominations of deserving individuals. A selection committee developed by the School Career Counseling office shall recommend a candidate in accordance with the policy and intentions stated herein and forward the results of selection to the Association sponsor for final confirmation.
3. Scholarship Application:
Scholarship Application must be submitted by the LAST THURSDAY in MARCH, scholarship application and information is available on the Mugu Crows Web site: www.aocmugu.org . The application can not be filled-in and submitted on-line. The application is intended to be downloaded, saved to a 'local' computer, filled in (electronically or by hand) and submitted by the deadline; last Thursday in March. This application would become the 'cover sheet' of the Scholarship Application package. Once the Scholarship Application Package is complete, it can be submitted by US Mail or eMail.
A. US Mail - AOC Mugu Crows Club, Scholarship Committee, PO Box 1384 , Camarillo, CA 93011-1384
B. Email - Send a .pdf to: mugucrow2015@aol.com
C. Scholarship Application: www.AOCMugu.org